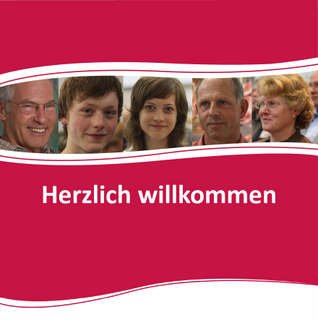 Welcome to our Homepage.
As the free church Wiedenest, we are a community of people from different generations and nations, who love Jesus, follow him and spread God's love by word and deed.
Everybody is welcome. Our vision is to increase God's glory by growing on the inside (maturity) and on the outside (increase in church-goers).
The church service on Sundays is the main event of our church week. This is where we celebrate God by worshipping him, learning from his word and by receiving Communion.
Our podcast contains the sermons from our weekly church services. Usually there are about 300 people visiting our services on Sundays.
Another aspect of our church are the spirited small groups and home groups during the week. We want to be a church of small groups to have greater fellowship and pray and care for each other.
During the week there are a lot of different events and groups for children and youths in our church building. Aside from the mother-child play group, we offer a weekly café for senior citizens and many other offerings for the people from the area (Oberbergischer Kreis) and the neighboring Sauerland (North-Rhine-Westphalia).
As a church we belong to the Union of Evangelical Free Churches. In 1921 our church was formed from present-day Forum Wiedenest e.V.
In this section we introduce ourselves as a free church. Also we state our vision and our calling, our history, our leadership and our network.